Esker Hills Golf Club - Par 71 - 6,799 Yards (Medal tees recommended)
Esker Hills Golf Club is situated in the heart of Co Offaly, carved from the glacial deposits of Esker Riada that runs through the country in an east-west direction. It is neither parkland nor linksland giving it a very unique feel. As the name suggests it is an undulating golf course as each hole carves it's way over the sandy gravel base deposited by the glacier thousands of years ago.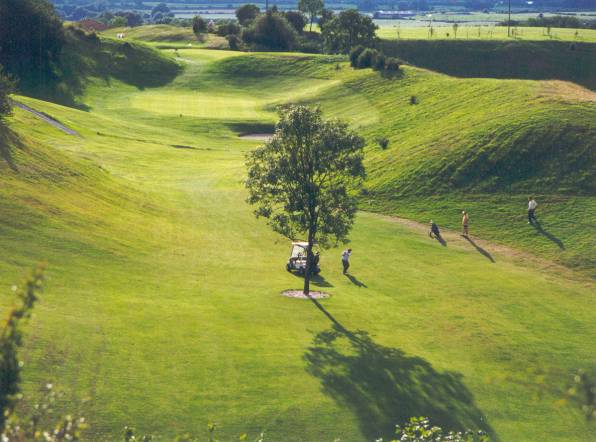 The fairways are mainly bordered by indigenous hardy shrubs such as blackthorn, whitethorn, hazel, elder and gorse making life very difficult for the wayward hitter. The greens at Esker Hills are of the modern contoured sand based variety. They are among the best and most difficult in the country. Anyone who keeps a three putt off the card here is a safe bet to win the money!
No two holes are remotely alike providing the golfer with a hugely satisfying golf experience. Indeed, it is more a course for brain than brawn as water features and sand traps added to the natural terrain put a premium on good course management rather than length.
Some of the more delightful holes on the course are the shorter par fours, a feature of O'Connor Jnr. designs that demonstrate that a course of enormous length is not required for a true test of golf. And this course is exactly that - a true test.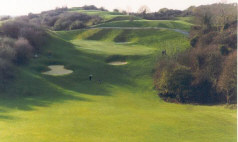 The par-4 2nd is almost drivable in a tail wind if you can carry the top of the hill. Even so, par is still not a given with large undulating green nestled in a natural valley and well protected by bunkers. At the 4th you hit from the tee uphill between two mounds - miss this gap and trouble awaits both left and right. If you are lucky enough to stay on the sloping fairway from the drive, you are left with a short iron from a down hill lie to a severely sloping green. Leave the ball above the hole at your peril!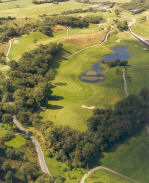 The eighth is another short but delightful par 4 - you need to weigh your options carefully before deciding whether to play short and safe towards the solitary ash tree in the centre of the fairway, or to try and blow it through the narrow gap leaving only the merest of wedge shots to the elevated green. Again the 10th is drivable for some but the water hazard that sweeps into the fairway from the right and guards the green leaving only a narrow passage to target. If you bail out left then trees and a strategically placed bunker make getting close almost impossible. Driver or mid- iron, that is the question!
Apart from these four short gems, the golfer enjoys a mix of holes set in beautifully natural surroundings.
If you haven't already failed the test, full concentration is required for the long par-4 17th and the welcoming final hole. Even if it has been 'one of those golfing days', you will be left with an exhilirated feeling of having played a truly great golf course.
---
Quotes and Comments
"Designing Esker Hills gave me enormous satisfaction, plotting the course through nature's own sand-hills and valleys. Esker Hills is the only inland links type course I know of, which makes golf a pleasure all year round."
Christy O'Connor Junior (Course Designer)
"Nine days ago we played Esker Hills near the town of Tullamore. In the era of designer golf courses and £100 green fees you may not have heard of Esker Hills. Esker Hills is one of Irelands finest golf courses and is infinitely better value than the places you will have heard of. If you are a golfer, never, ever pass this place."
David Walsh - The Sunday Times (September 2001)
It's just how I imagined playing golf in Ireland......challenging, beautiful, and fun.
Joe Myers, U.S.A
Four of us from Tipperary Golf Club came to play a number of courses. We range in handicap from 7 to 13. We sought a challenge. We began with Esker Hills Golf Club. We were captivated. The course offered every sort of challenge in the golfing sense. It had variety of scenery, unexpected discoveries and, above all, excellent greens. The course and staff deserve the highest commendation. We stayed for the four days and enjoyed ourselves thoroughly. Inside the club house we were met with courtesy, efficiency and friendliness. All in all - our best golfing experience.
Members of Tipperary Golf Club
ADD A COMMENT | RATE ESKER HILLS GOLF COURSE
For a guide to Midland Ireland and its golf courses visit our regional golf pages.
---
Notable Notes
---
Return to Index of Golf Courses in Ireland
** This golf guide is under development and any feedback or comments are appreciated. If you have played golf in Ireland please let us know where and your thoughts on the golf courses you have played.
For sample itineraries of golf tours in Ireland visit the golf holidays in Ireland section of our website