GOLF GUIDE TO IRELAND: MIDLANDS
Midland Ireland provides great value parkland golf. From old, mature courses such as Mullingar and Tullamore to newer designs at Esker Hills and Glasson there is a superb menu to choose from. In the east of the region Carton House, The K Club and Seve's first design at The Heritage are all championship courses of the highest quality.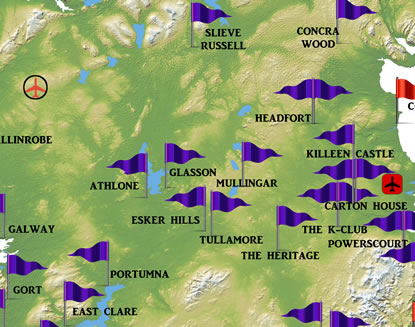 The midland towns of Tullamore and Athlone are the principal bases for golf tours of the region. Both are approximately 2 hours from Dublin Airport. Portumna is also a good accommodation base.
Explore the map for further information. Click of a golf flag for golf information. Distance and travel time information is given below.
Athlone is in the very centre of Ireland and is built on the River Shannon on the southern exit of Lough Ree. It offers a wide array of restaurants, bars and other amenities.
Tullamore is another principal midland town offering good facilities and easy access to the midland golf courses.
Portumna is also built on the River Shannon and is a major centre for river cruising, angling and other water sports. Hunting is also popular.
Other Regions: West | North and Northwest | East | Southeast | Southwest